NEWS FROM THE CZECH CENTER MUSEUM HOUSTON - APRIL 24, 2013
From the Heart of Europe to the Heart of Houston Texas
in the Museum District
4920 San Jacinto Street, Houston, Texas 77004 - 713.528.2060
czech@czechcenter.org
www.czechcenter.org
Open Monday - Saturday 10:00 a.m. to 4:00 p.m.

The Horrific Events in West, Texas have shocked and grieved the nation. To Honor Those Lost and in Recognition of the Survivors in the West, Texas Fire and Explosion Tragedy, Wednesday April 17, 2013, the Czech Center Museum Houston is collecting donations for a Memorial Fund for the West community. Thank you for your kind consideration. We are accepting checks marked "Memorial." Checks should be to the order of CCMH, 4920 San Jacinto Street, Houston, Texas 77004. If you want to pay by credit card, call 713.528.2060 or you can donate at this link...

Ambassador Petr Gandalovic comments. A number of comments by Americans on social media mistaking the Czech Republic for the country of origin of the Boston Marathon bombing suspects, ethnic Chechen brothers, prompted the Czech ambassador to the United States to act.  In a statement posted on the embassy Web site, Petr Gandalovic said "the Czech Republic and Chechnya are two very different entities, the Czech Republic is a Central European country; Chechnya is a part of the Russian Federation." Gandalovic calls it "a most unfortunate misunderstanding," but some responses on Twitter are less diplomatic.  Mirca Sekerova recommends Americans "open a geography book once in a while…stop blaming our country for this."  And Petr Manda commented: "Well done, U.S. education system."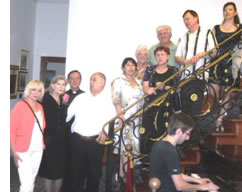 The annual SpringFest brought traditional Czech song, dance, crafts, and delights to the palate presented by the CHS Harris County Chapter at SPJST Lodge 88 in Houston. The entertainment this year consisted of the Wallachian ensemble group "Radhost," from the mountains of Moravia. Artist Frantiska Snopkova brought her folk art of the region with her handmade corn husk figures and for listening and dancing pleasure, Kovanda's Czech Band and the Texas Legacy Czech Band played throughout the day. The Radhost group on their Texas visit performed a song and dance for the delighted attendees at the CCMH reception while enjoying southern hospitality of a happy hour drink of Czech beers and or wine at the Czech Center Museum Houston. David Barta wrote: "Thank you for your hospitality. The group (Radhost) wishes to thank you for your nice reception. Loretta and I also wish to thank you for your time. In the future perhaps we can make arrangements to perform at the center so that more people can enjoy the talent of the Czech people. Thank you again, David and Loretta, na shledanou!"
.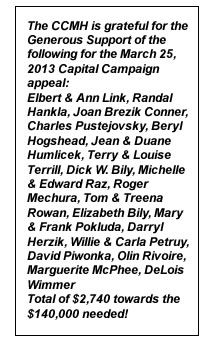 We Miss these Members


John R. Vacek, CCMH Honorary Board member 94, resident of Dickinson, Texas, died March 30, 2013 in Webster, Texas. Born August 27, 1918 in East Bernard, Texas to parents, John J. Vacek and Mary Vacek. He was a graduate of the University of Texas with a Pharmaceutical Degree, served in the U.S. Army during WWII, survived the Bataan Death March (see below) and received the Silver Star medal. He was a member of Shrine of the True Cross Catholic Church, an Honorary Member and Benefactor of the Dickinson Volunteer Fire Department, member of the Knights of Columbus and a Charter Member of the La Marque Elks Club. He worked as pharmaceutical salesman for Abbott Laboratories of Southeast Texas. Preceded in death by his wife Mildred Vacek he is survived by brother Al Vacek and wife Marie, numerous nieces and nephews and longtime friend and caregiver, Juanita Quezada. Funeral Mass was held at Shrine of the True Cross Catholic Church in Dickinson.
Update on The Bataan Death, which began on April 9, 1942, was the forcible transfer by the Imperial Japanese Army of 60-80,000 Filipino and American prisoners of war after the three-month Battle of Bataan in the Philippines during World War II. All told, approximately 2,500–10,000 Filipino and 100-650 American prisoners of war died before they could reach Camp O'Donnell. Death tolls vary, especially amongst Filipino POWs, because historians cannot determine how many prisoners blended in with the civilian population and escaped. The 128 km (80 mi) march was characterized by wide-ranging physical abuse and murder and resulted in very high fatalities inflicted upon prisoners and civilians alike by the Japanese Army, and was later judged by an Allied military commission to be a Japanese war crime. Thanks to Wikipedia for source material.

Dr. Tatana Sahanek, Member of Czech Center Museum Houston since July 2006, Prague born in Czechoslovakia November 2, 1922 passed away in Washington, DC on April 1, 2013. She is predeceased by the following born in Czechoslovakia, her parents Emanuel Sahanek (Kojetin), her mother Frantiska Sahanek (Prague) buried in Hostyn, Texas cemetery, brother Emanuel Sahanek, (Brno), sister-in-law Ellen Sahanek (Canada). She is survived by niece Tatiana Sahanek-Harkin (Massachusetts), nephew Paul and Debbie Sahanek of Converse, Texas. Immigrating to Canada then the U.S. after World War II, during her career, she held numerous professional positions. She received a Ph.D from the University of Texas at Austin in Library Science. After 31 years of federal service as an Acquisition Librarian, she retired in 2011 from Library and Research Services, Executive Office of the President of the United States having served all U.S. Presidents since Jimmy Carter. A memorial service to celebrate her life will be held at 3 p.m. on June 1, 2013 at Quaker House, 2121 Decatur Place, NW, Washington, DC. In lieu of flowers she requested donations in her memory would be most appreciated to The Czech Center Museum Houston, 4920 San Jacinto Street, Houston, Texas 77004. Excerpted from the Washington Post
Ed: She wrote: "I owe the wonderful United States so much. Take me as I am, an American, born a Czech, very proud of both!! Congratulations to your work and its great success. Tatana." It was a privilege to know this outstanding human being. Tatana's father was a government official of the Czechoslovak Prime Minister.


Ella Pasak Livanec of El Campo mother of CCMH Friday Volunteer, Allen Livanec, died April 14, 2013 at the age of 93. She was born on December 3, 1919 in Caldwell, TX to the late Adolph and Frances Skopik Pasak. After raising her family, she stayed busy with cooking for the Livestock Commission and the Rotary Club and tending the counter at Kutac's. Survived by her sons Gilbert Livanec and wife Carolyn of Manvel, Allen Livanec and wife Dolores of Pearland, and Michael Livanec and wife Sandy of Dayton; daughter-in-law Bebe Livanec of El Campo; son-in-law Anthony Smith of Wharton; sister Lorraine Livanec of Taiton; 10 grandchildren and 5 great-grandchildren. She was preceded in death by her parents, husband Emil Joe Livanec, son Lucian Livanec and daughter Debbie Livanec Smith. Visitation was at Triska Funeral Home. A funeral Mass April 17, 2013 was at St. Philip the Apostle Catholic Church in El Campo, Texas with Reverend Gary Janak officiating. Interment followed at Holy Cross Memorial Park.


Marie Ann "Marian" Vavrik, 79, of Sun City West, AZ passed away on April 15, 2013. Marian was vivacious and strong and created a legacy of love for her family. She was a graduate of Illinois Teacher's College (now Northern Illinois University), Morton Junior College (Cicero, IL), and Morton High School (Cicero, IL). At college, she was a charter member of Alpha Omega Pi sorority. After graduating college, she was a legal secretary, court reporter and grade school teacher. Above all, Marian loved being a teacher to her children and to thousands of other children in Naperville who attended her nursery school classes and story hours at Nichols Library, at which she worked as a children's librarian for 17 years. She was a voracious reader and world traveler (over 25 countries visited), and imparted her love of reading and travel to her family. Marian was fluent in Czech and passionate about sharing her Czech heritage with her friends, children, and grandchildren. She was an officer of the Czech-Slovak Club of America and founding patron of the Czech Center Museum Houston. Marian was a devoted wife to her husband, Bill, whom she met in 1951 in Stickney, Illinois. They were married in 1957 and lived in Brookfield and Naperville, Illinois until moving to Arizona in 1999. Marian was mother to three children: Dr. Diane Crater, Carole Lopez, and Steve Vavrik. Her devotion was evidenced by her high expectations for their education and hundreds of shuttle trips to Girl Scout meetings, Little League games, and dance, swimming, tennis, and piano lessons. She is also survived by seven grandchildren (one predeceased) and dozens of friends. A celebration of Marian's life was held on Thursday, April 18, 2013 at Desert Palms Presbyterian Church, Sun City West, Arizona. In lieu of flowers, please consider donating to the Czech Center Museum Houston, Attn: Marie Vavrik Memorial Fund, 4920 San Jacinto St., Houston, TX 77004, 713.528.2060 or online at www.czechcenter.org.
Ed: Excerpted from the Arizona Republic News

Accolades from our Members/Friends
"Discovering the hidden jewel that is the Czech Museum was one of the highlights of my recent visit to Houston! From the warm welcome at the door to the passionate and knowledgeable guide who took me on a tour through the Museum, each staff and volunteer vividly embodied the spirit of the Museum. The collections are amazing and the displays are as professionally done as in larger and better known institutions. It is the genuine hospitality and the deep commitment to the mission of the Museum that has stayed with me, stirred a longing to explore my own family heritage, inspired me to tell everyone I know to visit the Museum, and kindled a desire to return again and again. I look forward to visiting my new friends at the Czech Museum soon." Pamela Chavez, Owner, Collaborations Consulting, Community Relations Director, Don Chalmers Ford, Regional Facilitator, National Center for Social Entrepreneurs, Albuquerque, New Mexico
Dear Ms. Rosene, Thank you for the tour of your museum today. You have a beautiful facility and should be very proud. We enjoyed seeing Emma's friend's traditional Czech fashions. Again thank you for the wonderful time at your museum. Phil and Ginny Ewald
Ed: A reference to Marie Vavrik's beautiful Kroj (or folk dress)!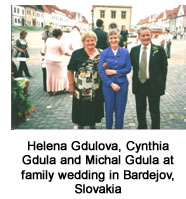 From Malcov, Slovakia to Charleroi, Pennsylvania. L. Charles Westervelt writes I started writing this article in 2007, but building a new house in San Antonio, Texas pushed this narrative aside. A recent visit from our Slovakian cousins has "brought me back to the fold." My wife, Cynthia Ellen Gdula, is the Slovakian in the family. Her cousins, Renata and Peter Knapik, visited us at the end of July, 2012. There is a new addition to the family since we saw them last, which was at their wedding in Slovakia in 2005. Michaela ("Mimka"), born in 2008, was a ball of fire during their entire visit and served as an inspiration to me to continue my narrative of family research that began way back in 1988. Not long after Cynthia's father died, we took a tour of what then was called "Eastern European countries." One of the stops on this tour was Prague. At our hotel in Prague, the hotel staff offered to help anyone interested in searching for ancestors by placing phone calls to possible family members. We gave them the name "Gdula" and the town "Malcov" and then took a tour of the city. When we returned, they handed us a note. They had spoken with a Michal Gdula and his wife Helena in Malcov and their message to us was: "They are very happy. They are looking forward to seeing us immediately (as soon as possible)". We were elated, but of course we had no way of traveling to Malcov, even if we knew where it was. The hotel staff copied a page from the telephone directory that showed the village of Malcov. This was our first inkling of where the village was located. Malcov is located not far from the city of Bardejov, in far-eastern Slovakia, near the Polish border. A long way from Prague! But no matter, we now had a name and address. Read more of Charles Westervelt's quest for wife's Slovak roots here...
Ed: Prague and the Czech Republic are in the heart of Central Europe

You are welcome to view this organization's 2011 IRS Form 990 available on the Guidestar website. Note this organization's name on filing was the Czech Cultural and Community Center, which is now doing business as the Czech Center Museum Houston. http://www.guidestar.org/FinDocuments/2011/760/496/2011-760496649-08e34299-9.pdf

Meet Visiting Book Author Czech-born American Author Charles Ota Heller and Bart Childs Ph.D. Professor Emeritus of Texas A&M University will visit the CCMH Brno Gallerie Saturday, May 4, 2013 from 11:00 a.m. to 3:00 p.m. Conversation with the author and book signing will provide an opportunity to discover and discuss PRAGUE: My Long Journey Home A Memoir of Survival, Denial and Redemption his early years in Prague in a large Catholic and Jewish family, feeling the oppression and brutality of the Nazi occupation of his beloved Czechoslovakia; World War II and the ensuing subjugation of the regime into communism, leading to the eventual loss of twenty-five members of his Heller and Neumann family. It is the history of Czechoslovakia filling all the empty spaces we Americans never really knew or believed. It is a spellbinding read, which we are grateful to have translated into English. You may order the book, Prague: My Long Journey Home, early for your signing on May 4 as Prague International Gifts has them available now. Please call 713-528-2060. The CCMH also invites the public, schools, the Holocaust Museum Houston, Czech Heritage Societies, KJT, KJZT Societies and SPJST Lodges for this special occasion.

Another Must Read New Book Rustic Baroque by Czech author Jiri Hajicek, Ceske Budejovice, Living in Czechoslovakia through 42 years of communism, loss of people, personal freedom and property just arrived this month in our Prague International Gifts Shop. It is another invaluable read documenting what happened to freedom, rights, properties and especially the missing people. The translator has annotated the novel to enhance English-language readers' appreciation for Czech life and culture. Rustic Baroque makes for an excellent study for those who are learning Czech or for Czech speakers wishing to improve their English.
We suggest that you order your book or books early as it will be highly desired for genealogy purposes and history lovers for authentic history formerly unknown. It is a great gift to anyone you know who will benefit being educated by these two books about these perilous times! Please tell friends, family, and associates if they enjoy history this is an intriguing documentary. For information and to order both books call: 713-528-2060. $19.95 + shipping and handling.

Mural to be Painted. The City of Houston through the Houston Arts Alliance has granted the Czech Center Museum Houston funds to paint a Mural.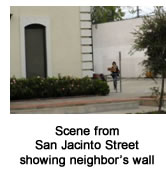 The proposed mural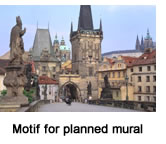 by the Czech Center Museum Houston will be presented on the side of a neighbor's building adjacent to 4920 San Jacinto Street, which he has graciously consented for CCMH to use. The building's façade and size of the mural is 18' x 50'. We will have a document of legal authority to enter on his premise and to use his building for this purpose. We will endeavor to have motifs that are consistent with his business included therein. The location of the mural can be viewed from San Jacinto Street to passersby and certainly to visitors to the Czech Center Museum Houston. This project, or problem, presented itself after all landscape shrubs and plantings were lost in the extended freeze of 2010. The glaring façade of our neighbor's building has no discernable feature to make it architecturally worthy. The owner (Czech Center Museum Houston) owns the land between the neighbor's building and the museum's parking area curb of 27 inches which is not conducive to plantings or upkeep. (The owner of the building had expressed misgivings about previous shrubs and their effect on the foundation). The existing planted roses by recently deceased member, Charlie Pavlicek, should be incorporated into the mural.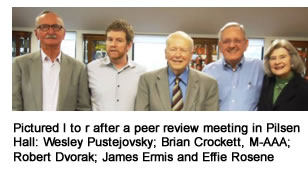 The Mid-American Arts Alliance serving six states has beenawarded a three-year $1.4 million program grant by Houston Endowment Inc. to fund a unique project designed to build the governance, planning, resource development, and civic engagement capacities of small-to-midsize arts and culture institutions in Houston, Texas called ENGAGE HOUSTON. This program will help up to thirty of Houston's urban arts and culture organizations, of which our organization has been selected.
This program will help staff and board to build a strong web of cultural leadership in Houston and empower those institutions to strengthen and sustain themselves and their community for the future. M-AAA, a nonprofit regional arts organization serving Texas and four other states, worked in formal partnership with Houston Endowment in 2011 to assess organizational development needs and training preferences of an array of arts, history, and culture organizations in the Houston area. ENGAGE Houston will call on those assessments to create locally-focused, community-relevant professional development training that will provide cooperative learning opportunities and stimulate peer networking. This grant provides an opportunity for M-AAA to leverage its long-standing Hands-on Experiential Learning Project (HELP) model to address the unique needs of Houston's cultural infrastructure using an outcome-based evaluation approach to ensure effectiveness.

Language Czech Online Daily It would be impossible not to learn from these simple distinct lessons. Try it now!
http://www.youtube.com/watch?v=bY9cp7r2CZc or http://www.studyczechonline.com/free-lessons
.

Remember, Honor and Celebrate with an engraved Marble tile of someone important in your life. The next round of work will commence on May 1, 2013. By subscribing to a tile, you will automatically become a member of the CCMH, extend your existing membership and support this Heritage Museum. Tile Sizes: 4 x 12, $250; 6 x 12, $500; 8 x 12, $750; 12 x 12, $1,000; $5,000 & $10,000 Top Row with Gold Border. $1,000 donations and above qualify for Lifetime Membership and Support.

Thanks to our members who deduct their contributions to the CCMH by a monthly pledge. Mary Jane Rozypal and Kyle Kahanek use Easy Match Bank of America and Easy Match Halliburton respectively to contribute painlessly.

2013 Calendar of Events: 4/14 Houston Chamber Choir 5:00 - 8:00pm - 4/20 Lone Star College Kingwood Chorale and Orchestra with all Czech Composer Music - 4/27 Zone II Museum District Day - CCMH - 5/4 Book Review/Signing 11:00am - 3:00pm Prague: My Long Journey Home - 8/24 CCMH 19th Annual Gala - 10/26 Czech Oktoberfest - Czech/Slovak National Day - 11/17 Velvet Revolution 1989 - Remembering overthrow of communism - 12/6 St. Nicholas Eve Holiday Celebration. Art exhibit and concert dates pending.

A Bohemian Rhapsody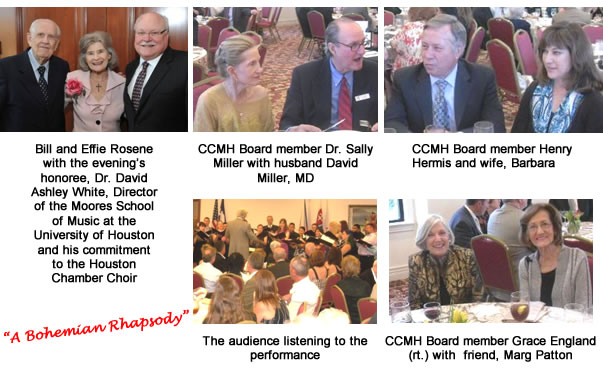 We are pleased the Houston Chamber Choir selected the Czech Center Museum Houston for their Annual Gala April 14, 2013 entitled "A Bohemian Rhapsody." From all reports it was a smashing success. Becky Tobin, CEO of the Chamber wrote: "Our event went extremely well. We are thrilled. What a wonderful event thanks to you Bill and Effie. We loved being at the Czech Center and am so glad we introduced it to so many people. We were happy some of our Board attended as well."
Ed: So are we that ours did as well!

"Time goes by so fast, people go in and out of your life. You must never miss the opportunity to tell these people how much they mean to you." Anonymous
Questions or comments or to be removed, please email first and last name to czech@czechcenter.org.
Effie M. Rosene, Chair/CEO, on behalf of Board of Directors, Volunteers and Members and Friends.
This organization is supported in part by a grant from the

City of Houston

through the


Houston Arts Alliance

and by the

contributions of our Members and Volunteers.